Three days before Adivasi Diwas, national papers carried on their front pages, the news that 15 Maoists had been killed on August 6 in an encounter in the Konta region of Sukma. Described as one of the biggest operations in the state involving the District Reserve Guard, the Special Task Force (STF) and the CoBRA (Commando Battalion for Resolute Action) of the Central Reserve Police Force, the report added that among those held from the encounter site were a woman who was shot in the leg and an area commander carrying a Rs 5 lakh warrant on his name. D M Awasthi, Special DIG, Anti Naxal Operations, said that the forces had, on specific intelligence inputs, travelled to Nalkatong and chanced upon a Maoist camp. Exchange of fire took place and 15 Maoists were killed. The security forces did not receive any injuries, added the report.
In a country where more than 91 per cent of news coverage on the Maoist conflict in Chhatisgarh is state-driven, particularly in the national English media, there were no accounts or voices of the Adivasi inhabitants of Nalkatong in whose village the encounter took place. Nor was there any follow-through or accounts of the women who ran behind the tractor that was carrying the dead bodies, unceremoniously stuffed into black plastic bags. The women went first to Konta and then to Sukma where the post mortems took place. Who were the dead and who were these grieving families who milled around the roads of Sukma?
Soni Sori, the Adivasi leader, who describes herself as one who wants to record the voices of pain from the jungles, and who was imprisoned for two years, told me that shortly after the incident she began receiving distressed phone calls. Gompad, the main village where the encounter took place is no stranger to violence. Deep in the forests, this Dorla village, considered to be in liberated Maoist zone, has had to bear the brunt of savage attacks by the CRPF and the Salwa Judum. In 2009, four members of a family were killed, among them was Kanni who was raped and killed and her baby's fingers were cut off.
On June 13, 2016, a young woman named Madkam Hidme was found brutally murdered and raped. The police claimed she was a Maoist but her parents alleged she had been abducted by the police.
It was to highlight this extra judicial killing that Soni Sori, who is also a member of the Aam Aadmi Party, (AAP) had culminated her Tiranga march in Gompad. The 180 km month long march through Bastar in August 2016, with the Indian flag in her hand, was a bid to emphasise how the Indian republic must honour the rights of citizens who live at the furthest fringes. She had assured Hidme's aged parents of a fight for justice.
But, now she was receiving calls from this very village, detailing the horrific violence that had yet again been inflicted. Unarmed ordinary Adivasis had been killed and not Maoists.
She told me,
I rushed to Sukma. It was a pitiful sight. Families who had spent the night on the road, sat numbed with grief. Some of them had not eaten for more than a day. I had to go some distance to get some snacks for them but when I returned the family was not there. They had been hustled away.
Made to become invisible, this is perhaps a telling symbol of the Adivasi plight in Chhatisgarh.
She cancelled plans to attend a function at Bilaspur for the Adivasi Diwas and instead cobbled up a team of young students, some local journalists including her nephew Linga and AAP leader Ramdev Baghel for a fact finding mission. They returned to declare unequivocally that those killed were not Maoists. More shocking was the fact that at least four of them were minors. The woman who had been held was Dudhi Buddhri. She was not an underground member of the Jan militia as is being claimed and had gone to the site where the men were sleeping to give them water. It is also now being reported that she did not receive a bullet injury to the leg but dislocated her ankle when she tried to run away.
This slideshow requires JavaScript.
Subsequent trips by journalists and others corroborated these narratives and, in response to a plea by the Civil Liberties Committee in the Supreme Court for a judicial inquiry and the court's directions for more evidence, a fact-finding team was set up. Whilst one team entered from the Andhra border, another team led again by Soni Sori and comprising of some local journalists and some from Delhi, set out for the jungles from the Chhatisgarh side.
(I had hoped to be part of the team from Chhatisgarh but had to drop out. Horrendous road conditions, bad weather and some mysterious roadblocks caused by trucks and trailers stuck in mud caused long delays and forced us to re-route. We did notice that somehow miraculously the trucks and trailers had been cleared even as we were returning. But, the prospect of a now very quick 35 km walk back and forth through muddy, slippery jungle paths and wading through chest-deep nullahs was too daunting for me.)
However, one has been able to piece together the Adivasi narrative through the notes generously shared by the other team members and they raise important questions on the official version.
For one, the Maoist camp claimed by the police has, in reality, turned out to be just a laddi, a makeshift shelter of thatched leaves that is common in these hamlets to store agricultural produce or provide shelter in the nights during harvest season when people have to stand guard over marauding animals.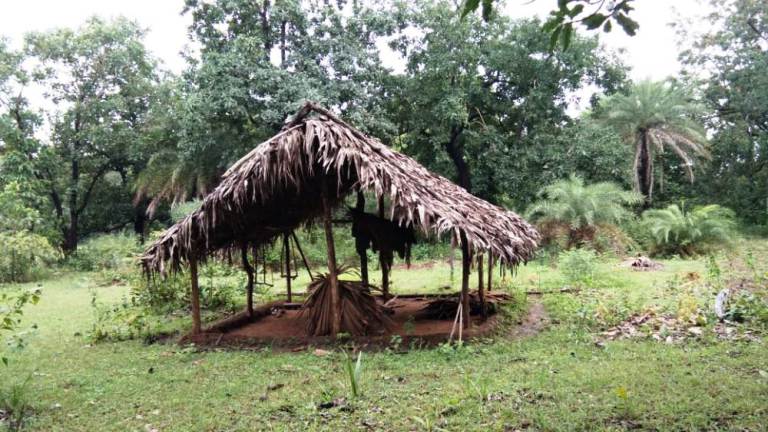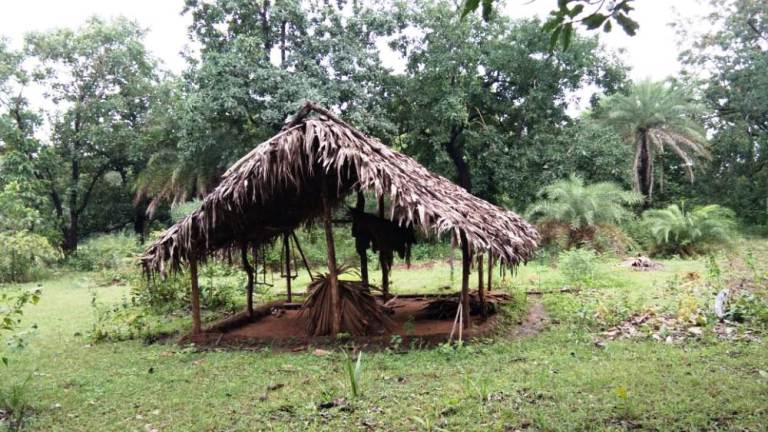 Displaying a video he had shot, Adivasi journalist and activist Linga told me, "You can clearly see the fields and laddi. There is a mountain in the distance and if the Maoists did want to set up a camp surely they would choose that vantage point."
The villagers told the teams that they had learnt of the entry of a large contingent of security forces in the forest and, as is the practice, the men had fled from the hamlets seeking shelter in this laddi. Beside inhabitants of Nalkatong there were some from Velpocha, Kinderpada and Ettegatta who took shelter there.
It was in the early hours of the morning that the security forces came upon the villagers and began shooting. According to some villagers, Soyam Chandra, shouted out in desperation that he was a ward watch of the village (something akin to a sarpanch) and that they were all villagers but his plea fell on deaf ears and he too was shot. His head was then battered.
Hearing the gunshots, the women came running to the spot and protested loudly. Many of them were then beaten savagely including a pregnant woman. Bodies were later put on a tractor and taken away with the women following. The men had all fled into the forest. This is now almost routine in Bastar since the men will invariably be picked up. It is women and elderly who shoulder the responsibility of having to go to the thanas and demand return of bodies.

Kadti Sukka, one of the men sleeping in the laddi, was injured in the leg but he managed to get away and jump into a stream. His son Kadti Ayta was not so fortunate. He was killed on the spot along with other minors like Muchaki Muka and Muchaki Dewa.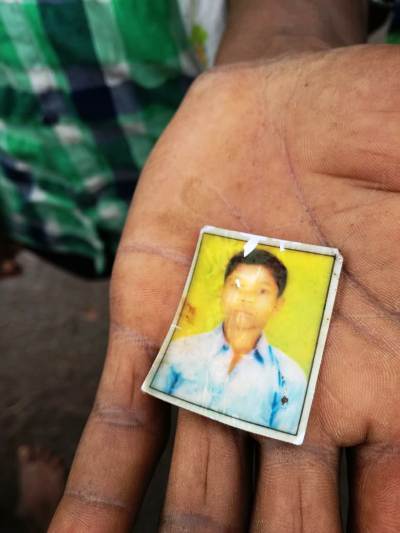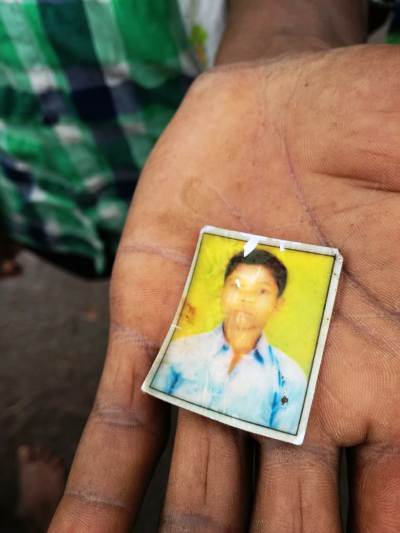 Among the most heart rending of stories is that of Hidma, aged around 14, whose father Lakhma is blind. According to media reports the boy was alive for a short while after receiving bullet injuries and was begging for water.
The grieving mothers pulled out ration cards for the fact finding teams to indicate the boys could be between 14 to 17 years of age.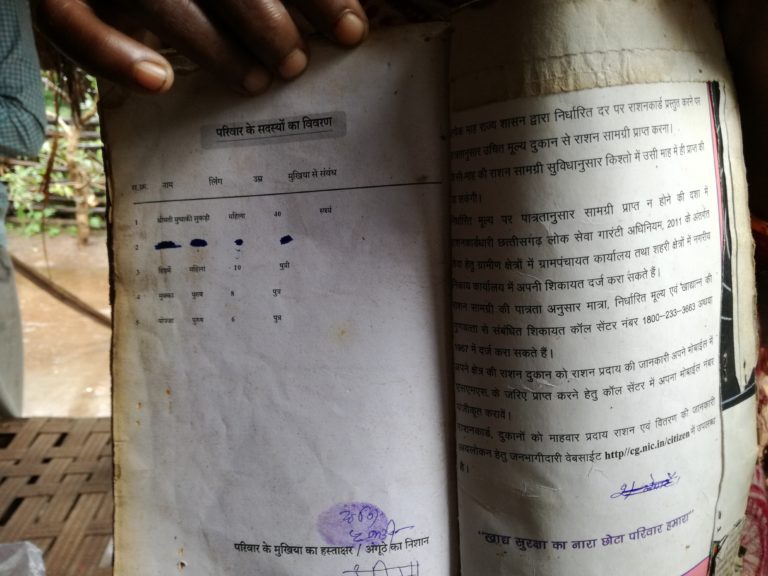 It is also pointed out that Buddhri, who was taken away by the police had applied for an Aadhaar card on June 18 of this year.
There are also many disturbing questions about the other person taken away by the police, namely Madkam Dewa. Initial police reports claimed he was the wanted person with a prize of Rs 5 lakh reward for his capture. But subsequently SP Sukma, Abhishek Meena has clarified that they had mistaken him for another Madkam Dewa but he insisted that the man under arrest is also a Maoist! His wife refutes this saying he has a ration card in his name and has been living in the hamlet. As another villager asked, "If the police knew he was a Maoist they could have picked him up any time he went to draw rations."
Inspector Meena told the media that it is not unusual for Maoists to hold Aadhaar cards and ration cards which logically should raise concerns about the procedure and ability to procure one.
These questions and under-representation of Adivasi voices and concerns in the media are due to many reasons. For one the nationalist rhetoric frowns upon any questioning of the state. There can be harsh repression and the Chhatisgarh Public Safety Act can be invoked on the mere suspicion of having "links" with Maoists. Many local journalists have been jailed, the most recent in memory being that of Somaru Nag and Santosh Yadav, both of whom are now out on bail.
Intimidatory tactics are widespread and it is common for police and other security forces to keep people on the radar and subject them to intensive questioning and detention. One has heard accounts of youths who hired out motor bicycles to journalists being detained in the police station. We were stopped umpteen number of times, sometimes by policemen not even in uniform. We were asked to disclose names and phone numbers even though we were travelling on a national highway in which hundreds travel daily in buses and private vehicles.
Tameshwar Sinha, a local Adivasi journalist, points out how the main purpose of the police is to create as many hurdles as they can to prevent any meeting or contact with the affected Adivasis and the media.
Tactics revolve around creating tension and fear. Even when we say we are journalists they demand Aadhaar cards. Or then there was that instance when a policeman insisted on taking a photo with us after we came out of the forest.
The police have also stated that it is activists like Soni Sori who are instigating the villagers into making complaints.
Villagers of Gompad also told the fact finding teams that they had been warned by security forces that there would be combing exercises and that this might entail intense cross firing with Maoists in which they might be injured and they should leave their homes. This was done on the very days of the fact finding exercise. In fact the teams met some villagers as they were returning from Durma after this warning.
The sheer physical separation from the world as we know it and the other world of these Adivasis made a deep impact on Padmaja Shaw who joined the fact finding team from the Andhra side.
"There was no access road and we had taken a tractor on slippery paths. Once inside we found there was no electricity, no drinking water supply. People were placing pots on the thatched roofs to catch the rain for procuring water. Nothing of their marginalised lives is reflected in the mainstream media discourse."
She added that to actually then heap wild allegations that these people were Maoists who are planning to blow up atomic plants and so on was utterly ludicrous when they walk miles just to get a match box.
The saddest part, she said, was that they were not asking even for their entitlements from the state. They were subsisting in their own way.
It is the state that intrudes so violently into their lives.
Akash Poyum, who was from the Chhatisgarh team and is editor founder of the website Adivasi Resurgence said that the whole experience in the village was very overwhelming.

This is a place where anyone can get shot anytime and no one will know. No one outside cares. It is numbing to think of the power of the state even when in fact there is no state. They have not voted in these 71 years.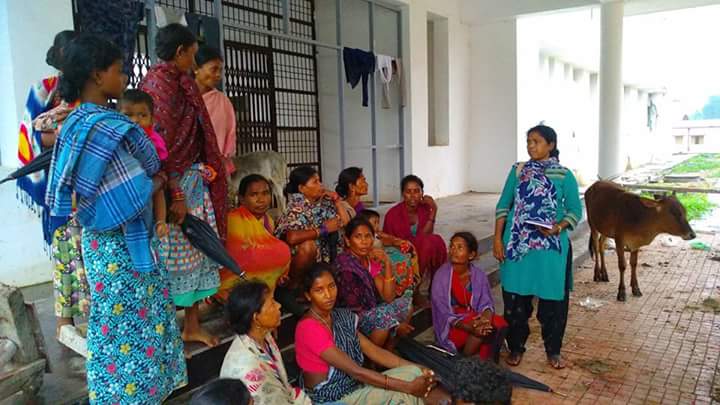 For Soni Sori there was a particularly heart breaking moment during this second fact finding visit. Villagers angrily complained that the investigation into Madkam Hidme's extra judicial killing had gone nowhere. In fact more violence was heaped upon the village. The tiranga she had left behind in the village in 2016 was returned to her by Hidme's mother who told her they did not feel as if they were citizens of this republic.
Have your say
comments